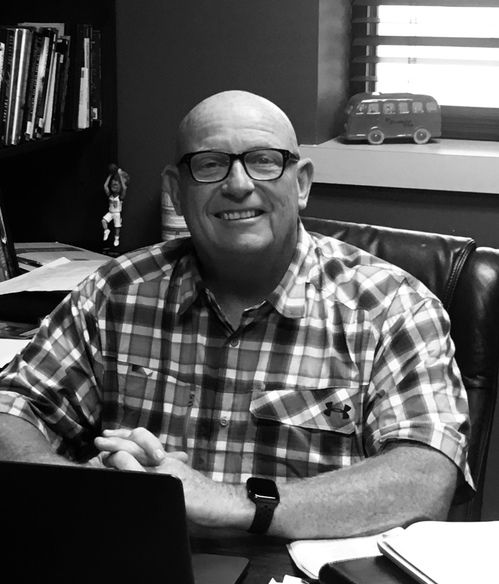 Tony & Minette, along with their 6 kids, have been active in serving alongside Fairview since 1994. Tony serves as one of our Ministers on staff. Along with being the key preacher, Tony & Minette teach various small group studies and they host a Community Group in their home.
John has been a part of the family here at Fairview since 1966! He has been on staff since 2009 and serves as an Elder as well. John serves on a team of talented people to facilitate our Sunday morning celebrations. John and Nancy & their 3 adult kids (and two grandchildren) have meant the world to us around here.
Justin has been a part of Fairview for nearly 20 years. Justin is from Carthage and joined our staff team in 2018 to serve as the High School Youth Minister. Justin and Tahnae, and their 3 children, love being able to invest in our high school students.
Financial Administrator and Student Ministry
Hayley serves as Fairview's Financial Administrator and on the High School ministry team. She loves to invest in the lives of young women and has been serving on our Student Ministry team since 2015.
Ryan joined our Ministry team in 2010 as a member of our Children's Ministry Team. He currently serves with Marisa Stump on our Middle School Ministry to serve our 5th-8th-grade students. We are blessed to have him & his wife Meagan and their two children in our church family.
Marisa does a great job on our Middle School Ministry team. Marisa grew up around here and we have the joy of getting to have her on staff. Marisa, her husband Logan, and their 2 children in our church family. Wanna help her out? Give her a call or drop her a note.
Elementary Ministry (K-4)
Angie & Kyle Fewin, with 5 kids in tow, have been serving as our Childrens Ministers since 2000. Angie has grown & created an environment in the Childrens Ministry that is aimed at kids experiencing God's amazing big story! Kyle has served alongside Angie from the moment they started dating.
Since 2009, Lauren has been loving on our li'l ones every chance she gets. She directs our Early Childhood area (newborn – pre-k) along with a great and qualified team. Lauren and her family are a great part of our family here at Fairview.
Administrative Assistant and Communications
Since 2009, Piper has been helping us make all of our ideas work together. She's an integral part of our Admin team that keeps everything on track. Her husband Stephen and 2 daughters are a huge part of the Body.
Administrative Assistant and Benevolence
Heather has been serving on our Admin Staff since 2011. She also plays a huge role in our benevolence ministry by helping us stay focused on serving those who are in need. With her husband Justin & three great kids, the Fullerton's make everything we do more fun & helpful.
Ron joined our staff in 2018 to help us keep everything looking great! Ron does an amazing job of making sure we can use the church building to bless the community around us. We are so thankful for everything Ron and his wife Kathy do to serve Fairview.